Common Techniques Used By Wallpaper Removal Professionals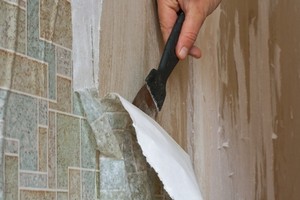 Working with a professional in the Ohio area to address your need for Cleveland wallpaper removal is a good idea. This is a tricky, messy, tedious and time consuming project. Not to mention, it requires skill, experience and even special tools to tackle the job.
While there are plenty of home improvement tasks that make good DIY projects, wallpaper removal is not one of them. Most of the time, those who do attempt it on their own, only end up getting part way through. Once the realization of what a challenge this is sinks in, they quickly opt to call in a pro to finish the job.
How it All Works
Of course it is still a good idea to know a little about what you can expect the experts to be doing when they are in your home tearing down your outdated wallpaper. Some of it depends on the type of wallpaper, how long it has been up and whether or not it has been painted over – just to name a few. Another reason why it is best left to professionals who can determine which approach would be best.
Dry Stripping – This is among the quickest and easiest, but should still be handled by a pro to ensure the walls are not damaged. This can usually be taken care of by using a putty knife to get under the corners and pull the pieces away. It has to be removed at an angle in order to prevent pulling at the wall below.
Steamer – This is the ideal approach for situations such as multiple layers of paper, paper that is painted over or otherwise stubborn wallpaper predicaments. Steam is used to loosen the glue and paper but has to also not compromise the condition of the walls.
Solution – For nonstrippable paper, a solution is used to loosen the adhesive without damaging the wall. This should then cause the paper to be able to peel away but still has to be done with care to avoid damaging the walls.
Keep in mind, there is still the remaining adhesive left behind to contend with. This is a whole other process on its own.
Let the Experts Handle Things
There is, of course, a great deal more to it than that. What many people do not realize is just how much messy work is involved. This includes getting the area prepared to work and a thorough clean up job after the work is done. When you want the best possible work out there, call on Off The Wall Wallpaper Removal to take care of this for you.
If you are looking for a professional wallpaper removal company in Cleveland please call us today at 440-427-0528 or complete our online request form.