Common Painting Problems Following Shoddy Wallpaper Removal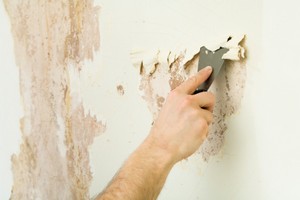 Problems are more likely to occur after a wall covering removal project if you don't actually hire a professional wallpaper removal company. Yet, each year, countless homeowners still attempt to make this a DIY project.
There are countless things that can go wrong, and a lot of how well the project goes is based on factors like the age of the wallpaper and the quality of the adhesive used. Yet, opting to try to save a few dollars by skipping hiring a professional and doing the removal yourself can also determine how well the final results of the project turn out.
You're not really doing yourself a favor by attempting a job meant for professionals. Not only can you end up leaving behind traces of glue that impact how well new paint application, you can end up damaging the walls.
Some jobs are just better handled by letting experts get the job done. Wallpaper removal is one of those tasks, especially if you plan on painting the walls following the removal process.
What Gets Left Behind
Your walls may even look paint application ready, but once you start the job you're likely to realize you didn't do as good of a job as you had anticipated. Some examples of unwanted issues you can end up with include:
It's a common problem to end up with wallpaper remnants. Old wallpaper can be stubborn; think about how long it's likely to have been stuck to your walls, in the first place. A scraper alone isn't likely to get the job done, especially without causing damage to the walls. It's common to need a steamer, chemicals, or wallpaper shredder, which is more tools for you to rent or buy. Still, you may end up needing to sand the walls and all of this means a lot more time, and a greater chance you'll end up with walls that are less than perfect.
Having leftover adhesive is also quite a common issue. The main job of this glue is to keep wallpaper stuck for years, if not decades. It only makes sense that the glue or paste would end up still being hanging around. Unfortunately, you can end up with hardened sections or chunks sticking to the wall. Trying to paint over these segments can be problematic and you're likely to see these sections even after the walls are freshly painted.
Using a scraping blade usually results in wall damage. Chemicals can soften the wall or discolor sections so painting over it doesn't work well. At the very least, it will take much longer to dry and at the very worst, the blemishes will be visible after the paint job is done.
For Cleveland wallpaper removal, give our team of experts at Off The Wall Wallpaper Removal a call.
If you are looking for articles or tips from our wallpaper removal company in Cleveland please call us today at 440-427-0528 or complete our online request form.