Wallpaper Removal Questions & Answers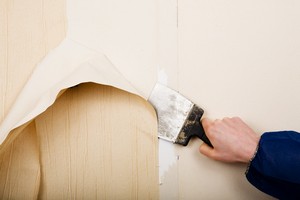 Many people love wallpaper, though there are many more who don't. It used to be very popular, so there are plenty of older homes with it still on the walls.
Wallpaper can actually be a great decorative element. But as it ages, it fades and looks old. Plus, colors and patterns go in and out of style. So most of us want to get rid of it.
Off The Wall Wallpaper Removal is a company who serves the Cleveland, Ohio area.
Our technicians are constantly faced with questions from customers, so we thought we would put together some Q & A information about wallpaper removal.
If you have other questions or need help with your project in Cleveland, just give us a call.
Question: What are the best techniques for wallpaper removal?
Dry Stripping - This is only done on strippable wallpaper. A test is first done to see if it works. The wallpaper feels like plastic due to the vinyl composition. This is the easiest type to remove unless the adhesive won't let go of the wallpaper. It can happen.
Steaming - A steamer is used for wallpaper removal. It is best to use on stiff, heavy, old wallpaper. It softens the glue. Must be done with the right amount of steam or can damage drywall & plaster.
Chemical Soaking - The wallpaper is first scored on vinyl and acrylic wallpaper. A chemical agent is used and allowed to soak in. Scrubbing with a lot of elbow grease removes the wallpaper.
Question: Will the drywall need repair after wallpaper removal?
In most DIY wallpaper removal cases, yes. If professionally done by those with experience, it's not likely but it could. Sometimes drywall has to be repaired or even replaced. It's important that the right technique is used for the specific type of wallpaper and adhesive. Sometimes it's impossible to remove old wallpaper without damaging the surface underneath.
Question: Why does some wallpaper stick so badly?
One of the biggest reasons wallpaper sticks is because the person doing the work either didn't apply size or primer to the wall before hanging it. Sizing is an older method to seal the wall before hanging wallpaper. Without it, the paper will stick to the surface too deeply. Drywall is just what it says it is, dry. So it quickly absorbs moisture and the glue. Prep the wall first if you ever hang wallpaper on a bare wall or you'll never get it off later.
Question: Can I paint over wallpaper?
A lot of people buying homes today have to deal with wallpaper removal. Yet some just paint right over it. This leaves a visible seam on the wall from the wallpaper underneath. Plus, the wallpaper can peel and then the whole paint job is ruined.
It's best to remove the wallpaper in Cleveland when you don't like it. But it's a long process and it takes knowledge about wallpaper adhesives and material types.
If you are looking for articles or tips from our wallpaper removal company in Cleveland please call us today at 440-427-0528 or complete our online request form.