Amherst Professional Wallpaper Removal Services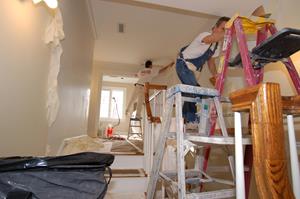 Many Amherst homeowners have an older property that needs some updating. Older homes in the area can have wallpaper that needs to be removed prior to painting or renovating the home. If you have an older home in the area and you have wallpaper that needs to be removed, consider hiring a professional company to complete the task for you.
Wallpaper can be very difficult to remove, and it often is. While at first it may seem like it's going to be an easy project, you'll often run into surprises that leave you frustrated. It can take a lot of time to get rid of wallpaper if you don't have the proper tools or experience to know what to do.
Wallpaper isn't all the same, and how it was applied to your walls can be variable. These variables mean that unless you have plenty of experience with all types and the equipment you need to remove it professionally, you could spend hours upon hours trying to strip it off.
Our professional technicians at Off the Wall Wallpaper Removal can take down your old wallpaper for you, saving you both time and money. We do this process every day, so we've developed techniques and have all the tools we need to remove your wallpaper efficiently.
When you need a company you can trust, look no further than our family owned business. You'll receive honest, upfront proposals after we come out to test the area.
Amherst Wallpaper Removal Subcontracting Services
If you own a painting or remodeling business, one of the easiest and fastest ways you can get rid of wallpaper prior to painting or finishing a wall is to hire our professionals here at Off the Wall Wallpaper Removal.
We provide this professional service to other contractors in the area and are fully insured. When you have the experience we do, removing wallpaper is no problem. Don't let other contractors who get delayed when they end up needing to remove wallpaper handle this part of the project for you. Call our specialists and your project will go smoothly, which translates into you finishing on time and on budget.
Written Proposals for Your Wallpaper Removal in Amherst
At Off the Wall Wallpaper Removal, you'll always receive a written, upfront proposal for the project. Sometimes it's not easy to find a company that can accurately give you a quote for Amherst wallpaper removal. That's either because they don't really have the experience to know or they don't plan for contingencies.
Either way, you need someone who's not only willing, but can give you a written proposal. You'll have the report for any insurance claims or financing purposes, plus you'll know what to expect of the experience.
We first come test the wallpapered area to determine what will be involved in the removal. We also plan for contingencies at this stage. We'll tell you what to expect of the wall condition lying underneath the wallpaper, and we'll give you a detailed quote.
Off the Wall Wallpaper Removal is Rated: 3 / 3
based on these 1 happy customer reviews.
---
"You did a great job and everything was clean when you left."

- Pam Sebastian Olmsted Twp. | Rated: 3 / 3
---
If you are looking for an Amherst wallpaper removal company please call us today at 440-427-0528 or complete our online request form.