Brook Park Professional Wallpaper Removal Services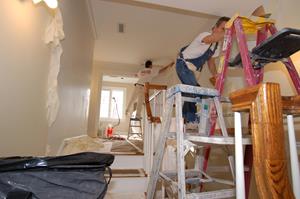 Homes in the Brook Park area of Ohio have seen a lot of updating over the years, but there's still a lot to get accomplished. If you own an older home or a home that has wallpaper you need to remove, you'll want to know how we can make the job easy for you.
Wallpaper removal can quickly turn into a nightmare, especially when you don't have the right tools and the right know-how to get it done. It become such a frustration that many homeowners end up in despair when they thought repainting their home would be quick and easy.
Wallpaper can be very stubborn and will hold onto the underlying materials so tightly at times that it rips off those materials right along with it when being removed.
If you have an older home that has old wallpaper, never fear because professionals who can get it done right and get it removed fast are only a phone call away. Whether you've tried already to take off your old wallpaper or you just know you won't want to mess with all the problems associated, you can count on our pros to get it done for you.
Brook Park Wallpaper Removal Subcontracting Services
A great number of our clients are painting companies that use our service when they need Brook Park wallpaper removal. They find that it saves them a lot of time and trouble that can cost money and delays on the project.
Our company of professional wallpaper removal technicians are fully insured and provided with workman's compensation coverage. When you need pros on the job to quickly and efficiently remove stuck on, stubborn wallpaper, call us in and we'll save the day!
Written Proposals for Your Wallpaper Removal in Brook Park
When you need a quote for wallpaper removal, a written proposal isn't always easy to come by. This is mostly because the company isn't able to give you an accurate quote for any number of reasons. From inexperience to the myriad of possible problems that can pop up when removing wallpaper, a company unable to give you a good written proposal should be avoided.
When you perform a certain service every day, you become efficient and effective at it. That means you eventually learn what it costs to do certain things and the possible problems that can arise to cause delays. Professionals can give accurate quotes and should have no problem writing them down for you.
You'll always get a professional, written quote from Off the Wall Wallpaper Removal. Our experts know all about the pitfalls and possible delays that can occur when wallpaper gets stubborn and refuses to let go of the wall surface. We'll also be able to tell you after testing what techniques will need to be used and what you can expect for the underlying surface. For professional written proposals, just give us a call at the number below!
If you are looking for a Brook Park wallpaper removal company please call us today at 440-427-0528 or complete our online request form.