Fairview Park Wallpaper Removal Services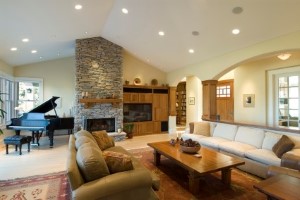 Need old wallpaper in your home or office removed? Save yourself the headache of doing it yourself and hire the experts at Off The Wall Wallpaper Removal to remove it for you. We are North Central Ohio's first choice for professional wallpaper removal and wall restoration. We have extensive experience and training in completely removing all traces of old paper from your walls and preparing it for painting or fresh paper application. Only a qualified technician can do the job without permanently damaging your walls. With Off The Wall you save a considerable amount of time and money with a team of Fairview Park Wallpaper Removal specialists who can complete the project right the first time.
Complete Wallpaper Removal in Fairview Park
As soon as you begin to take the wallpaper down from your walls you will immediately begin to experience several challenges. Some of these challenges can harm your wall's surface and end up giving you less than satisfactory results. With wallpaper you never know what's behind the paper itself. Chances are you'll get in over your head. At Off The Wall Wallpaper Removal we've served hundreds of clients in the Fairview Park area. Our technicians have encountered every scenario and know exactly how to tackle it in a manner that is efficient and dependable while give you the results you'd expect from a seasoned company.
Step By Step Wallpaper Removal
With our removal service there is a step by step process that we follow in order to guarantee exceptional results that work every time. When you contact us, we schedule an on-site visit in order to determine your needs. We perform tests on your wall which tells us what type of wallpaper you have, the type of adhesive used to install it, and also what you wall is made of. We also get an indication of how long the wallpaper has been on the mall. All of this information tell us what type method needs to be used and what solutions need to be applied. We then give you a detailed report of what needs to be done and an accurate estimate. From there we carefully remove the wallpaper and then clean up the mess.
We Offer Written Proposals
We provide on-site evaluations and written proposals for all our North Central Ohio clients. This is a tremendous service for both home and business owners that helps you make an informed decision before moving forward with our service. Our proposal specifically lists what needs to be done, what approach we'll use to remove the wallpaper, and a detailed estimate including all expenses. Once a proposal is submitted then we perform the job exactly as planned and only charge you what was on the proposal with no changes. You can trust our company for consistent service that delivers every time.
If you are looking for an Fairview Park wallpaper removal company please call us today at 440-427-0528 or complete our online request form.