Your Wallpaper Removal Expert For Independence, OH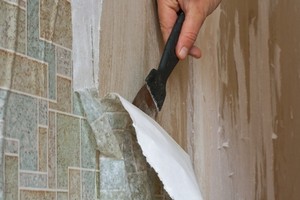 Sometimes moving into a previously owned home means you inherit the wallpaper chosen by others before you. Whether it's newer or older, you may decide you don't like it. Decorating around someone else's design theme isn't easy if it doesn't suit your tastes.
So, what to do with the old wallpaper? Where do you begin removing it so you can replace it? Most of us start with going to the store and picking out the new wallpaper or paint before we ever begin to try removing the old. Once back home and the day comes to take down that wallpaper, we find ourselves stuck with what seems like an impossible to remove mess.
If you find yourself stuck in this position or you realize you need help at the beginning, Off The Wall Wallpaper Removal is ready to help. We serve several counties in the Independence, Ohio area, so just give us a call for your free quote. Here's what to expect:
Removal Assessment Performed
Sample Test On The Area
Advise You Of What To Expect
Written Proposal For Client
If Accepted, Project Is Scheduled
Wallpaper Removal Subcontractor Service For Independence
It is very common for us to be called in by painters and other home improvement contractors for wallpaper removal service in Independence and other areas. Removing old wallpaper can be time-consuming for a contractor who needs to stay on time with the project.
If you are in the home improvement industry and need a subcontractor, call our Independence wallpaper removal specialists. This is the only thing we do and what we have done every day for the last 15 years, so we're great at it!
Glued On Wallpaper Removal
Vinyl Wallpaper Removal
Peeling Wallpaper Removal
Layers Of Old Wallpaper Removal
Foil Wallpaper Removal
Painted Over Wallpaper Removal
Water Damaged Wallpaper Removal
Wallpaper Over Plaster Removal
Vinyl Coated Wallpaper Removal
Wallpaper Over Drywall Removal
Safe Historic Home Wallpaper Removal
If you are looking for a professional wallpaper removal company in Independence, OH, please call us today at 440-427-0528 or complete our online request form.