Need Help With Wallpaper Removal In Lakewood, OH?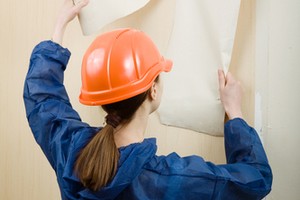 If you are thinking about changing or removing old wallpaper, you may be wondering where to start. Should you do it yourself or call in a professional?
Sometimes homeowners get lucky and the wallpaper peels right off when they do it themselves. This can happen based on the type of wallpaper and adhesive it was attached with. But more often than not, a homeowner starts trying to wet and peel it off only to find it comes off in tiny little strips that run in all directions.
It takes skill and knowledge to remove wallpaper. You first need to know what type of wallpaper was used and what type of adhesive was applied. It could even be that an extra adhesive was used to bond it firmly to the wall.
In many cases, this means you will be peeling off some of the drywall or plaster underneath too. This will lead to plaster or drywall repair. That project you thought would be a day or weekend project turns into a nightmare.
Call Our Professionals For Expert Wallpaper Removal In Lakewood
Off The Wall Wallpaper Removal specializes in taking down old wall coverings. We work for both residential customers and contractors such as painters or home improvement companies. Give us a call for an assessment and we'll provide you with information on what we'll need to do followed by a written estimate.
Initial Sample Patch Test
Professional Assessment
Discussion With Customer Of What To Expect
Proposed Condition Of Wall After Removal
Submit Written Proposal To Customer
Schedule Project If Accepted
Questions About Our Wallpaper Removal Service?
If you live in Lakewood and have questions about our Lakewood wallpaper removal process, please give us a call. Depending on the type of wallpaper you have and what is underneath, the process will vary. We use a variety of methods depending on these factors.
We can tell you here, however, what to expect from our specialists when they work for you:
We First Clear The Work Area
Light Switches, Outlets, Etc. Covered
Protective Plastic or Dropcloths Laid
Wallpaper Is Removed
We Then Clean & Remove Debris From Work Area
If you are looking for a professional wallpaper removal company in Lakewood, OH, please call us today at 440-427-0528 or complete our online request form.