Bratenhahl Professional Wallpaper Removal Services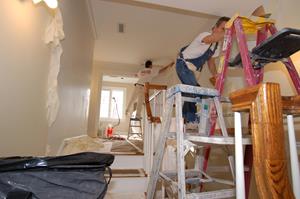 Removing wallpaper is all we do here at Off the Wall Wallpaper Removal. That means we've had plenty of experience finding the right techniques and tools to use for every type of wallpaper. This process can take years to learn how to do correctly, and in fact most people and painting companies will struggle with the task because they don't know the most efficient method of dealing with it.
We use custom formulated solutions to help remove old wallpaper. Our solutions are eco-friendly, biodegradable, non toxic solutions that are safe for adults, children, and your pets. We have the latest in tools and technologies available to completely remove your wallpaper without damaging the underlying surfaces.
We are a fully insured company that provides our own worker's compensation so you don't have to worry. When you need professionals who can get rid of your old wallpaper in a quick and efficient manner, you can trust us at Off the Wall Wallpaper Removal!
Wallpaper Removal Services in Bratenhahl Save You Time
Have you wanted to repaint your home for some time, but been hesitating because you know it's not going to be easy tearing out all that old wallpaper? You're not alone, because removing wallpaper can quickly become nearly impossible to do in some cases. Many homeowners begin a home improvement project themselves, only to find themselves stuck with wallpaper that simply won't come off without tearing it off strip by strip.
If you find yourself in this predicament or simply don't want to mess around with fighting your old wallpaper, give us a call for an upfront quote.
Many times, your wallboard may not have to be replaced, so there are good reasons to get an estimate from professionals like ours. Saving you time and money means your project can get going and get completed on time without all the headaches old wallpaper can cause!
Bratenhahl Wallpaper Removal Subcontracting Services
If you're a painting contractor and have experienced trouble with removing wallpaper in the past, you know what we mean when we say it can be a very cumbersome and time consuming process. Unfortunately, time equals money and often a company that has little experience with quickly removing wallpaper will find themselves upside down on the job costs.
Instead, hiring a subcontractor to do the work will give you a way to know what the project will cost upfront so you can get on with painting or refinishing the walls.
Many of our customers are in fact contractors who paint homes and businesses. Removing wallpaper isn't easy, and it can take years to learn how to do it effectively and efficiently. And since Bratenhahl wallpaper removal can be one of the prime causes of project delay, consider utilizing our services instead of struggling with it yourself.
If you are looking for a Bratenhahl wallpaper removal company please call us today at 440-427-0528 or complete our online request form.