Linndale, OH Wallpaper Removal Services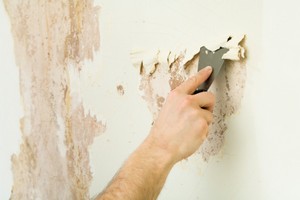 Removing your old wallpaper in Linndale during a remodeling or restoration can be as easy as calling our number below. There's no better way to have it done than to have a professional with years worth of experience to handle it for you.
Our team at Off The Wall Wallpaper Removal can take care of all your wallpaper removal needs whether you're a homeowner or a contractor looking for subcontractor services.
We've served the area for fifteen years and would be glad to help you as well.
Wallpaper removal has to be done using certain techniques that depend on a number of factors. We know what's effective and what's not, and have even developed our own formula to use when wetting is needed.
It's an eco-friendly wetting solution that won't harm the environment or any occupants or pets in the home. For safe, affordable wallpaper removal services, call Off The Wall Wallpaper Removal for a friendly quote you'll love!
Linndale Wallpaper Removal Subcontractor Services
At Off The Wall Wallpaper Removal, we provide our wallpaper removal services in Linndale to homeowners and all types of contractors in the home improvement and remodeling industry.
Our technicians are ready to provide you with a great quote for wallpaper removal. We commonly serve professional painters, remodeling contractors, and restoration professionals.
If there's a way to remove the wallpaper, our technicians can get it done. We'll first test the area to see how the surface underneath stands up to the removal.
We'll test your wallpaper and underlying materials which will give you an indication of what to expect the condition of the walls to be when the wallpaper is removed.
Over time, wallpaper manufacturers have changed the materials and adhesives used when creating wall coverings, which means that one method of removal may no longer work for every type.
You can count on our experience because we'll be best able to determine the most efficient means to remove your wallpaper.
Painted Over Wallpaper
Peeling Wallpaper
Layers Of Old Wallpaper
Water Damaged Wallpaper
Wallpaper Over Plaster
Glued On Wallpaper
Wallpaper Over Drywall
Vinyl Coated Wallpaper
Vinyl Wallpaper
Foil Wallpaper
Wallpaper Removal Professionals in Linndale
Any time you question whether or not removing the wallpaper will damage the materials underneath, give our team a call and we'll be able to test it for you.
If it can be safely removed, we'll be able to handle it for you by using our quality materials that are safe for the environment and your family.
Let us come evaluate and test your wallpaper removal and we'll also provide you with an upfront quote you'll love!
If you are looking for a Linndale wallpaper removal company, please call us today at 440-427-0528 or complete our online request form.