Need Help With Wallpaper Removal in Newburgh Heights?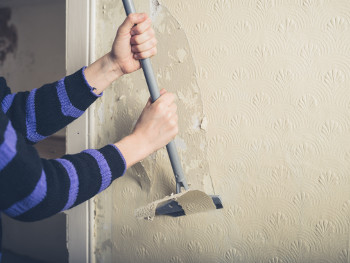 If you are ready to change the look of your home but currently have wallpaper in place, you are going to need a professional removal service to work with. Locals here know that the name to rely on is Off The Wall Wallpaper Removal. We take great pride in the work that we do and that affords us the ability to get topnotch results.
The important thing is to not attempt to make this a DIY project. You can end up doing more harm than good. Let our trained and experienced experts, armed with the proper equipment, take care of this for you and leave your walls looking good as new.
Call Our Professionals for Wallpaper Removal in Newburgh Heights
Many people make the erroneous decision to attempt to deal with their own wallpaper removal task. However, they usually quickly learn this is a task best left to the experts. So, here are some things to think about.
You can't really know what type of adhesive was used, until you start to try to remove the wallpaper. Stronger adhesives require much more work than you can probably take care of.
The equipment we use makes the job go that much faster. What we can do in hours would easily take you days/ Which means DIY usually becomes an ongoing project carried out in your free time, over a matter of months.
Professionals are less likely to damage the walls in the process. And, if this does happen, we can easily take care of the repair work, as well.
Newburgh Heights Wallpaper Removal Services
Off The Wall Wallpaper Removal is the only name that you need to know, in order to get the quality work that you need. We look forward to working with you and helping you create the look that you want. Let's face it, you cannot have the home of your dreams without also taking care of the need to improve the look of the interior.
If you are looking for an Newburgh Heights wallpaper removal company please call us today at 440-427-0528 or complete our online request form.