Your Wallpaper Removal Expert For Maple Heights, OH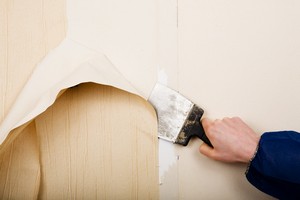 There's no better way to improve the appearance of the inside of your home than to take down old wallpaper. Out of date wallpaper or wallpaper that is dingy will completely destroy any type of design you want to go for.
Owning a home sometimes means you inherit the favorite designs of others. Unfortunately, their taste could be completely off kilter with yours. That means when you buy the home, you're thinking in the back of your mind that the first thing you want to do is get rid of that wallpaper.
How To Remove Old Wallpaper
The time has come to take it down. Fortunately, there is a very easy way to handle this process. All you need is to call in the Maple Heights specialists at Off The Wall Wallpaper Removal. We offer our Maple Heights wallpaper removal services to both residential homeowners in Maple Heights and painters or other home improvement contractors.
Don't get stuck with peels of wallpaper and damaged plaster or drywall. Our specialists are experts at what we do because this is all we do. This is your best option for safe and efficient wallpaper removal in Maple Heights. Call us first to save time and possible repairs.
Residential Wallpaper Removal Service
Subcontractor Wallpaper Removal Service
Fully Insured Professionals
Local Company
Reliable & Timely Wallpaper Removal
I Have Layers Of Wallpaper & Paint, Can You Remove It?
Yes, absolutely. We use a variety of techniques depending on a number of factors to remove old wallpaper. Give us a call and tell us about your painted over wallpaper. We'll make a test patch and provide you with a professional assessment so you know what to expect. Some wallpaper is difficult to remove including:
Wallpaper With Extra Adhesive
Vinyl or Vinyl Coated Wallpaper
Wallpaper Applied Over Plaster
Wallpaper That Is Already Peeling
Wallpaper Applied Over Another Layer
Foil Wallpaper
Wallpaper That Has Been Painted Over
Wallpaper Damaged By Water
Historic Home Wallpaper
If you are looking for a professional wallpaper removal company in Maple Heights, OH, please call us today at 440-427-0528 or complete our online request form.