Highland Heights, OH Wallpaper Removal Services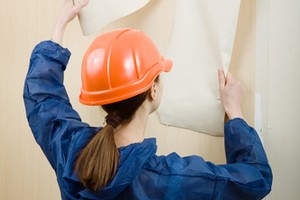 Getting old wallpaper removed can be extremely frustrating and time consuming. There's nothing worse than trying to peel off stubborn wallpaper that simply refuses to come off!
That's something we run into ever day as professional wallpaper removal experts. We can get rid of just a few areas of covered wallpaper or we can remove an entire home's worth.
If you have a Highland Heights home, give our service team a call today so we can give you complete services for your wallpaper removal.
Instead of trying to peel it off, steam it off, or wash it all off yourself, let our team of experts take care of this dirty job for you!
Highland Heights Wallpaper Removal Subcontractor Services
At Off The Wall Wallpaper Removal, we often assist other contractors with our wallpaper removal services. Whether you're a homeowner or a contractors, we can provide you with the best wallpaper removal in the Highland Heights area.
Our technicians are ready to give you a great quote you'll love for all your wallpaper removal needs. Commonly, we subcontract with professional painters, remodeling contractors, and restoration professionals.
If you have a home in the Highland Heights area that you're planning to renovate, you'll want to be sure your wallpaper is removed correctly and safely. You'll also want to be sure glue residue is completely taken off the walls as well.
During your wallpaper removal, we test the area before beginning so we can determine if the underlying materials will stand up to the wallpaper removal. Next, we test your wallpaper and underlying materials to find out how the surfaces underneath will fare in the removal.
Over decades of changes, wallpaper manufacturers have come up with varying materials and adhesives used when creating wall coverings. Different types of wallpaper are made including vinyl and plastic.
These cheaper types of wallpaper can be even more difficult to remove, especially if the adhesive is very strong.
Foil Wallpaper

Painted Over Wallpaper
Layers Of Old Wallpaper
Peeling Wallpaper
Water Damaged Wallpaper
Wallpaper Over Plaster
Wallpaper Over Drywall
Vinyl Coated Wallpaper
Glued On Wallpaper
Vinyl Wallpaper
Wallpaper Removal Professionals in Highland Heights
Your Highland Heights home may have a considerable amount of wallpaper that needs to be removed, our you may have very little. Old wallpaper may be covered in layers or may be painted over.
Damaging the surface underneath is not possible in some cases, but if it can be safely remove, we'll be glad to help you out. We use green materials. Call our experts for the best wallpaper removal in Highland Heights!

If you are looking for a Highland Heights wallpaper removal company please call us today at 440-427-0528 or complete our online request form.