Highland Hills, OH Wallpaper Removal Services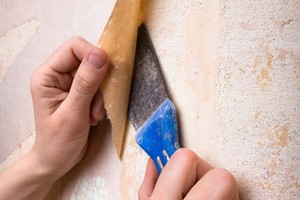 Your Highland Hills home may have a wallpaper that needs to be taken off before you can paint or restore your home. Old wallpaper may be covered in layers of other wall coverings or may be painted over.
Damaging the surface underneath cannot be avoided in some cases, which is why we test the area prior to removal. With all your wallpaper removal needs, we'll be here to help you out.
There's nothing like being able to remove your own wallpaper, but when it's stubborn and refuses to come off, the cause could be any number of things.
It's best to have your wallpaper removed by our professionals so you're not having to deal with it yourself. Wallpaper removal requires a lot of time and can be completely frustrating.
After thirty years of doing it as a specialty service, our professionals have the expertise and experience to handle your requests. Our Highland Hills Wallpaper Removal Subcontractor Services:
Foil Wallpaper
Painted Over Wallpaper
Layers Of Old Wallpaper
Peeling Wallpaper
Vinyl Wallpaper
Water Damaged Wallpaper
Wallpaper Over Plaster
Wallpaper Over Drywall
Vinyl Coated Wallpaper
Glued On Wallpaper
Wallpaper Subcontractor Services in Highland Hills
We often do work for subcontractors in the Highland Hills area. We provide sufficient wallpaper services to the Highland Hills area. If you're a contractor who doesn't provide wallpaper removal services, just give us a call anytime.
Our contractors know how frustrating it can be to try to remove wallpaper after it's been on the walls for what seems like forever.
If the home looks outdated due to faded wallpaper, let us come evaluate the situation and determine what it will take to get rid of the old wallpaper.
With nearly 15 years serving the Highland Hills area, we can help you with the wallpaper removal needs you have no matter what type of surface issues there may be.
Not all wallpaper removal can be done without damaging the underlying building materials. That's why we test the area first.
Over time, we've formulated our own removal solution. We use safe products that won't harm the environment but are very effective.

Wallpaper Removal Professionals in Highland Hills
Getting rid of your old wallpaper may be just what you need in your Highland Hills home to brighten everyone's mood. Old, peeling wallpaper can really bring you down.
We can help you get this one area of your home ready to be fixed up right. We can help you with wallpaper removal projects if you'd like to get it taken care of this year.
As the area's premier, professional wallpaper removal service, you'll want to remember the name -Off The Wall Wallpaper Removal!
If you are looking for a Highland Hills wallpaper removal company please call us today at 440-427-0528 or complete our online request form.