Hunting Valley Wallpaper Removal Services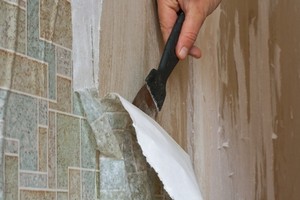 Removing wallpaper from your Hunting Valley walls can be frustrating and time consuming. Nine times out of ten, the wallpaper refuses to come off until you wind up destroying the surface underneath during removal.
Whether you are a homeowner in Hunting Valley or a contractor who needs help with this service, it's important to have the wallpaper removal done in the best way possible.
Over the last fifteen years, we have served the Hunting Valley and other areas with effective, safe wallpaper removal services.
As specialists, we've developed techniques that effectively remove wallpaper of different types covering varying surfaces.
We are a licensed and insured professional wallpaper removal subcontractors who can help you get rid of your unwanted and outdated wall coverings.
Hunting Valley Wallpaper Removal Subcontractor Services
At Off The Wall Wallpaper Removal, we service not only homeowners but all types of contractors in the home improvement and remodeling industry.
We can give you a great quote for wallpaper removal in Hunting Valley if you would rather hire out for that service. We commonly serve painting professionals and restoration professionals.
If anyone can get wallpaper removed without damaging the surface underneath, it's our team of experts.
We'll test your wallpaper and underlying materials in order to determine the materials used in the manufacturing of your wallpaper, and we'll give you an indication of what to expect the condition will be in when the wallpaper is removed.
Over time, wallpaper manufacturers have changed the materials and adhesives used, which means that one method of removal may no longer work for every type.
With our experience, we'll be best able to determine the most efficient means to remove your wallpaper.
Painted Over Wallpaper
Layers Of Old Wallpaper
Peeling Wallpaper
Water Damaged Wallpaper
Glued On Wallpaper
Wallpaper Over Plaster
Wallpaper Over Drywall
Vinyl Wallpaper
Vinyl Coated Wallpaper
Foil Wallpaper
Wallpaper Removal Professionals in Hunting Valley
If you've been told it's okay to remove your wallpaper and that it won't damage your underlying building materials, yet you still have concerns it will, we can come give your wallpaper a professional test that should determine whether or not it can be safely removed.
Many owners of historic or older homes will have this same concern for their home's structure because the building materials are so delicate and easily ruined during a restoration.
Since our wallpaper removal techniques are much more effective than many other contractors can provide, we may be able to safely remove your wallpaper where others couldn't.
We can evaluate the situation by testing the wallpaper first in order to determine the successful removal, so give us a call to see what we can do for you.
If you are looking for a Hunting Valley wallpaper removal company please call us today at 440-427-0528 or complete our online request form.