Expert Wallpaper Removal Service For Lyndhurst, OH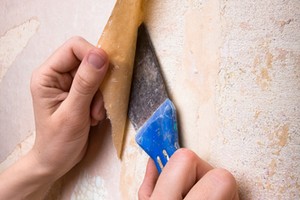 Do you have an older or historic home that has old wallpaper you don't like? It's incredible how long wallpaper will stay on a wall, long after it has become dingy and out of date. Trying to remove it can be a real nightmare.
Sometimes removing the wallpaper in Lyndhurst means you are removing the plaster or drywall underneath as well, especially if the right procedures aren't done. This can be so frustrating when the homeowner finds they have to call someone to repair the wall too.
Instead of going through all this, let our experts at Off The Wall Wallpaper Removal come assess the material and advise you on what we can do to safely remove it for you. Our specialists know all about wallpaper and how to remove it as safely as possible.
Initial Sample Test On Patch Of Wallpaper
Specialist Makes Removal Assessment
Specialist Discusses Project With You
You Receive A Written Proposal
Project Is Scheduled If You Are Ready
What We Do When Removing Your Wallpaper In Lyndhurst
Clear Work Area - We clear the area where the wallpaper will be removed by moving furniture, pictures, etc. If there are window treatments, we remove them too.
Protect Everything - All thermostats, wall outlets, phone outlets, alarm systems, door bells, etc are protected from moisture. Drop cloths and/or plastic is laid to protect surfaces. The coverings are secured.
Wallpaper Removal Begins - We will use either a wet or dry removal process according to the test results and assessment that was previously done. Once the wallpaper is removed, we then wash the walls to ensure there is no remaining adhesive or wallpaper.
Work Area Cleaning - Our specialists clean the area and remove debris.
After the old wallpaper is removed, the type of priming and wall preparation done before it was applied will determine the condition of the walls. You will have a good idea of what to expect about the condition of the walls during our initial assessment and patch test which is done prior to providing you with a proposal.
If you are looking for a professional wallpaper removal company in Lyndhurst, OH, please call us today at 440-427-0528 or complete our online request form.