Need Help With Wallpaper Removal in Moreland Hills?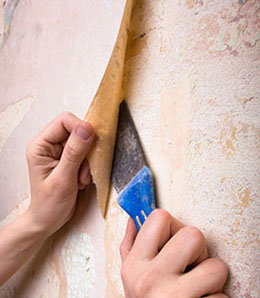 All wallpaper is not not outdated, but you will know when the time has come that yours needs to go. What you may not know though is that you need a professional to work with, in order to take care of the removal process. Smart local homeowners already know that the name to trust in for service excellence is Off The Wall Wallpaper Removal.
We believe in going above and beyond, in order to provide high quality results. We also make it a point to not focus on meeting your expectations since our goal is to exceed them. Don't settle for less than the best or attempt to DIY your own wallpaper removal project.

Call Our Professionals for Wallpaper Removal in Moreland Hills
A common issue we run across is being called into finish what another so-called pro has started. Or, in many cases, a project the homeowner began. It is much easier to simply start with expert service to avoid damage to your walls, and other problems.
There is no way for someone lacking training to be able to identify the type of paper or adhesive being used. An expert can tell and will know the proper steps to take in order to safely remove it.
The technique we use rarely effects the walls. If a blemish should occur, we also know how to handle it, in order to make things as good as new again.
The age of the wallpaper plays a vital role in the process, too. The older the paper, the stronger the adhesive hold, in many cases.
Moreland Hills Wallpaper Removal Services
Let Off The Wall Wallpaper Removal provide you with the service that you need, in order to get the best quality result. We look forward to having the opportunity to partner with you and provide you with a clean slate for your interior walls. Our job is to help transition you from your current house to the home of your dreams.
If you are looking for an Moreland Hills wallpaper removal company please call us today at 440-427-0528 or complete our online request form.